Everyone loves the idea of free food and promos! That's why IG contests were a thing, even until now.
However, ever since COVID-19 changed the face of the whole world, we also face a ton of adjustments. But we still must go on with how we make a living. For restaurant owners like you, it has really been a challenge to cater your services to the people as it is very risky to make the customers come to you.
And then it might hit you, why don't you come to them?
Since you can't let them have prizes and opportunities such as behind-the-scene resto tour, free buffet, special cooking classes, etc., free food and delivery might do the trick.
With that, here are some ideas you might want to try for your online restaurant contest!
1. Like-a-photo contest
This works very simply, you just need the users to like the certain photo you're going to post for the contest and choose a date when to close the contest. Once closed, randomly pick two or three–that's upon your contest rules–likers and then you're done!
2. Tag/comment a friend
Though this is the simplest, it has always been effective especially when you want to promote your page and gain more followers and potential customers!
The procedure goes the same as picking random people who tagged their friends on the comment box.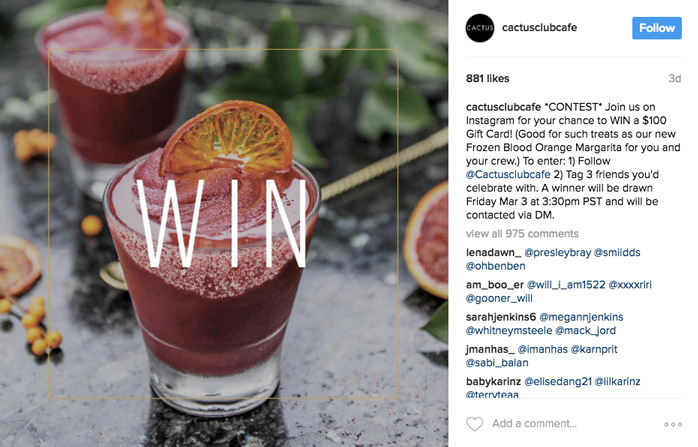 3. User-generated content
a. Photo challenge contests:
You can let users post a photo taken in your restaurant (of course way back when there was still no pandemic) and caption why they captured that photo. The users should tag you in their posts so that you can track the participants in your contest. The user that uploads the best content wins and can be featured on your page.
This can boost your reviews as well as your engagements since the content is directly made by your customers.
b. Comment a memory:
This contest is a fun one as you can freely interact with the users in the comment box. It's your strategy on how to select your winner. This contest is a special one since you just don't have to pick a winner, but also get to read the experiences your customers had. You know, some special memories happen in a restaurant, maybe yours have been a part of their lives too!
c. Make a 1-minute vlog:
It's your choice to build up your own mechanics. But if possible, make them do it just within the boundaries of their home. Since we must be reducing the risk of the pandemic, your contests shouldn't be bringing your customers out to the public.
Vlogs like making a video about themselves answering the question "if you were a dish written on our menu, what would you be and why?"
With this simple contest, you're not only promoting your restaurant but letting your customers promote you.
These are just ideas of online contests but it's up to your strategy why, how and when to do it, and how to pick your winners. Plus, these ideas are not limited to Instagram only. You can freely do it on Facebook, too!
Let not the new normal hinder your dreams in achieving success for your business. If you need help to gain followers and manage your social media accounts, we're offering a free tool just for you! CLICK THE LINK HERE!
If you have other concerns other than handling your social media accounts, we're very open to listening to you. Visit us here, or schedule a small talk with us here.