Have you ever–
"Hey, have you tried Skinny Mint tea already?"
"No, what's the deal about it?"
"It's what Kylie Jenner's drinking on IG!"
"What? NO WAY! I'M GETTING ONE TOO, THEN!"
Or have you ever just stopped scrolling on your feed and look at what your favourite influencer's using for his/her daily workout?
If you have, then you just experienced being part of a successful influencer marketing strategy.
Influencer marketing involves teaming up with popular and relevant influencers in your niche to promote your brand and increase your revenue.
They are characterized by a huge number of dedicated and loyal social media followers. They are also known as experts in their niches, and their recommendations are often highly considered by their followers.
What differentiates influencers from traditional celebrities is that influencers share a strong connection with their follower communities. They take advantage of social media to establish a personal rapport with and gain the trust of their followers–which is a good thing.
You can work with influencers to create engaging content, announce giveaways, host Q & A sessions, etc., depending on your marketing objective.
If Superman has powers that could carry a tall building, influencers have the power to carry your brand. The following are the specific powers they hold: the CRABS of influencers (it could sound not so nice if we'd make it CARBS of influencers, right?):
Conversions
The ultimate objective of any business is to drive sales and earn more profit. However, it is challenging to run after potential customers, even after all your efforts.
With most of the people experiencing "trust issues," consumers nowadays are becoming increasingly cautious of such brands and often a long time doing online research before purchasing.
Influencers have the power to drive more people towards your products or services. This is because consumers trust and rely on the recommendations made by their followed influencers.
According to a gen.video study, 33% of the respondents agreed that influencers are their most trusted sources for shopping suggestions.
Influencer marketing is a useful tool for customer acquisition. It helps you generate more leads for your business and, ultimately, earn increased revenue. The ROI of influencer marketing is as high as 650%.
Reliability and Trust
The most significant power of influencers lies in the trust of their followers. It is this trust that enables them to grow loyal fan communities.
When an influencer shares their honest feedback about your product or service, it is perceived as a genuine testimonial. It reinforces your brand's reputation and strengthens your credibility.
Thus, collaborating with influencers helps you win the trust of their audience. Once they start to trust it, you can at least expect they'll be with you in the long run. It increases brand awareness even further and ultimately helps you earn more revenue.
Audience Engagement
Increasing the number of likes can be a little less challenging, BUT getting the comment section keep up on your social media posts is a struggle in itself.
In the absence of adequate engagement levels, having millions of followers won't yield any results. In the first place, you won't arrive at this number when you don't have much action going through your posts. This is where influencer marketing can be of tremendous use.
Firstly, working with influencers improves the quality of your content and makes it more user-centric. Such content is more likely to find traction amidst your target audience.
Secondly, when an influencer shares your content on their social media profiles, their audience will also engage with it. If they like the content, they might tag their friends and share it on their profiles, further increasing its reach.
For instance, many brands partner with influencers to announce Instagram giveaways. Such posts usually receive a large number of likes and comments, thus increasing audience participation and engagement.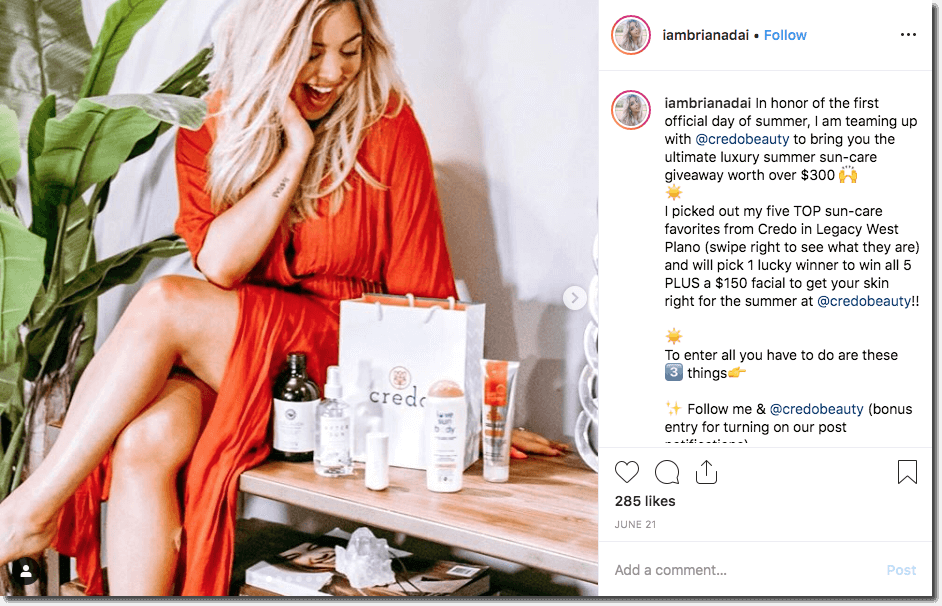 Brand Awareness
Influencers, with their vast numbers of followers and broad popularity reach, have the power to increase brand exposure and boost brand awareness. When an influencer endorses your brand, their followers are likely to take notice AND TAKE ACTION.
The fact that a trusted influencer suggests your brand, such recommendations are often considered authentic.
According to the previously cited study, 37% of the respondents used influencer marketing to increase brand awareness.
Search Engine Rankings
Collaborating with influencers can boost the other forms of digital marketing you are using.
It has the potential to improve your website's search engine rankings and expand your reach even further.
Influencer marketing increases brand awareness, thereby driving more traffic to your website. Also, when your content gets shared, it helps you earn several high-quality and authentic backlinks.
The quality of your content can also improve when you work with influencers. All of these factors can help increase your search engine rankings and help you grow your business.
Having problems marketing your brand? I hope you found this article useful for your business. If it did and you'd like more of this assistance, you can contact schedule a consultation with us here! We'd be honoured to hear your concerns and build a team with you.